Busy Bees Montessori School Classes
We offer quality Montessori classes with a busy, productive atmosphere where joy and respect abound. Within such an enriched environment, freedom, responsibility, social and intellectual developments spontaneously flourish.
1. The classroom environment and daily program: Children spend a large amount of time in the classroom each day. While there, they receive nurturing, supervision, food, and rest, as well as the skills they need to learn successfully.
2. The Program's Supportive Services: Busy Bees include physical health, mental health, nutrition, parent involvement, and social services to help children live up to their potential and "be all they can be" by reducing learning barriers.
3. Program administration: Administrative leadership from Maricela Mata is well-defined and has well-executed program goals. A high quality staff and appropriate adult-child ratios all contribute to the success of our quality child care program.
4. Safety: Illinois has standards and regulations for licensing and we follow those standards. These regulations focus on health and safety issues. Busy Bees Montessori School ensures the physical safety of the children while their parents work.
Features: Busy Bees Day Care center is going to teach its program in two different languages English and Spanish. A comfortable daily routine is established which includes games, music, stories, hygiene and nutritious meals.
Benefits: The benefits to the child are long lasting. Children are going to be exposed to 2 languages. Because of the Busy Bees program, children build skills that will provide the foundation for learning as they enter school.
Daily brightwheel app report: Busy Bees gives to parents' daily reports using the brightwheel app to let them know how was the child during the day. We encourage parents to send massages via brigthwheel app to have communication with teachers since drop off and pick up is at the door and we aren't allowed to speak at the door for Covid-19 safety precautions.
Monthly Newsletters: Busy Bees provides monthly newsletters that report highlights for the activities achieved by the child and the other interests shown in routine activities every child in care. Progress Report: Busy Bees provides Progress Reports two times a year to let the parents know how the children are doing developing their habits and skills.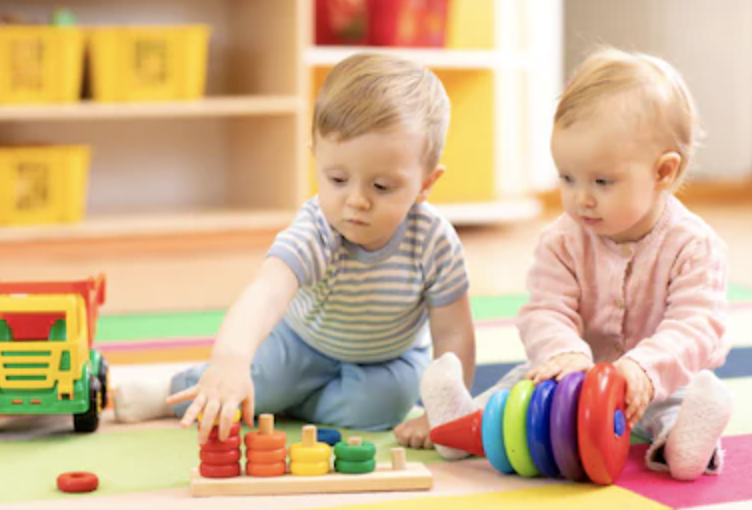 Infants
Our infant and toddler programs respectively, are committed to promoting quality Montessori infant/toddler care for children within the range of six weeks to 18 months at our Mount Prospect location, based on American Montessori Society principles. The aim is to accomplish the following:
Foster the development of basic trust.
Assist in the natural development of personality, based on unique needs and wants.
Respond appropriately to the infant's needs to be loved, respected, and accepted.
Nurture infants through their senses, allowing infants to observe and move freely.
Offer holding and feeding comfort to the Eggs.
Maintain a routine that will be both flexible to infants' daily needs, yet predictable so that the infant feels secure in her/his environment.
Establish a partnership with the family. The family is consider an integral part of the individual's total development.
Develop a stronger sense of self, self-confidence and independence.
BBMS Infant Specialist Teaching Tools and Concepts: The BBMS teacher in the infant setting will incorporate the following tools:
Knowledge of Montessori philosophy and methodology appropriate for infants.
Knowledge of early childhood development.
Observational skills to assist the development of each child.
Responsive environments to meet the infant's developmental needs.
Daily routines and incorporating them into the infant's curriculum.
Verbal and non-verbal communication skills.
Respect for the infant as an individual human being.
Respect for the environment as a resource for the infant's development.
Responsibility to assist and protect the infant's development.
Toddler
Toddler programs are respectively committed to promoting quality Montessori toddler care for children. We offer Toddler program for children within the range of 15 months to 36 months at our Mount Prospect location and 20 months to 36 months at our Arlington Heights location.

"The development of the child during the first three years after birth is unequaled in intensity and importance by any period that precedes or follows in the whole life of the child."
– Maria Montessori
Toddlers Overview & Mission
In the Toddlers Program at BBMS, we aim to turn your child's natural curiosity into positive learning experiences. The program takes advantage of the toddlers natural drive to act independently. The exercises and activities recognize that children learn by doing. It is during these first few years of life that the roots for a love of learning are established. Dr. Montessori recognized the sensitivities of the toddler in the areas of independence, order, movement and language as the key elements in the child's growth and development during the toddler period.
For many children this is their first experience separated from their primary care giver. Care is given to assist the young child and parent in handling separation and in making this a positive and healthy experience. A typical day for your child would consist of individual indoor work time, snack time (a favorite of most), outdoor playtime, music, reading stories, lunchtime, nap time and other enrichment activities. In this language-rich environment teachers support and guide twos as they explore order and disorder, and refine their emerging motor skills.
The aim of toddlers is to accomplish the following:
*Evolving toddler children playing and working next to one another to 3-year old children playing and working with one another.
*Facilitating drivers to catalyze a natural sense of exploration and curiosity.
*Sewing the seeds for self confidence and greater independence.
*Aiding in the potty training process.
*Focusing on fundamental language and communication skills.
*Introducing the root elements of the 3-6 year old Primary Program.
*Learning the skills that will develop independence and preschool readiness.
BBMS Toddler Specialist Teaching Tools and Concepts
The curriculum introduces several elements that will be a focus in the 3-6 year program:
Practical life: Precise movements and sequences developed doing practical activities and daily living objectives to help strengthen motor skills and concentration. In practical life they will experience real life situations and activities including: learning to zip, button, mix, and pour liquids. The practical life area includes assisting toddlers in the following as well: eating by themselves, drinking from a cup, grooming and toilet learning, cleaning, caring for plants and animals, food preparation and grace and courtesy.
Sensorial: The sensorial area allows children to use their senses to learn about the world. Identifying and putting names to the senses of sight, touch, sound, taste, and smell, help children develop formative knowledge of the real which is the basis for understanding abstraction later. Many of these materials are building blocks for further analysis and reasoning in the Bees program. In the Pupas classroom, a child can learn to distinguish different heights, lengths, weights, colors, sounds, smells, shapes, and textures.
Mathematics: Mathematical abstraction is mastered by manipulating the concrete, building, sequencing, and puzzling.
Language: From a solid basis in spoken language, reading and writing are developed using a variety of tactile materials. Language activities and materials increase vocabulary and conversational skills. Language Enrichment is another important area of learning for the Twos. These lessons give children the words they need to express themselves. They also associate names to all they see in their environment. The language skills are practiced through a variety of fun and engaging activities such as stories, poems, songs, picture cards, and even daily conversation.
Cultural Studies: World geography and peoples are explored through such materials as maps, flags, water and land forms, presentations and books.
Integrated Art and Music: Visual, audible and expressive arts are incorporated into daily classroom activities. Art and music are approached from a skills based perspective. Children can freely choose cutting, gluing, painting, magic markers, or clay. Listening to music of all varieties helps children develop an ear for music as well as more formal instruction on rhymes, moving to music and practicing duplicating rhythms.
BBMS Classroom Environment
A toddler in early development, first needs love, nurturing, comfort, understanding and empathy to respond. He/She then needs information, logical limits, degrees of freedom and fundamental support from his teachers and school caretakers.
This is what Busy Bees Montessori School strives to achieve for all its children, but the balance is most crucial in the toddler environment. Children of this age need a human and adaptable environment that responds to the individual child's needs. The environment will include the following:
Classroom materials are always accessible, attractive, safe, and geared for a child's success.
Activities are changed regularly in response to children's need for variety and challenge as they grow and learn.
The safe, loving, gentle atmosphere puts children and parents at ease and makes for a trusting, spontaneous transition to school.
Teachers who work with toddlers have knowledge of how to nurture and to assist and distinguish between the assisting and the need to withdraw and stand back with confidence. Pupas teachers have developed a firm sense of inner-trust to ensure they are maintaining their own confidence as they share their lives with children in transition and natural disequilibrium.
Furniture and materials are custom-sized to allow for the maximum exploration and development of the senses. The environment is modified as the child grows emotionally, physically, and intellectually.
Various multi-sensory, sequential, and self-correcting Montessori materials to facilitate learning. Materials for eye-hand coordination such as threading, bead stringing, cubes on pegs, spheres on horizontal pegs, puzzles, gluing, folding; and various practical life exercises, coloring, painting and cooking projects.
Space for movement, space for individual work, and space for group activities.
Access to a variety of large muscle activities that offer them opportunities to jump, climb, balance, or skip, through song and dance movement and outdoor activity.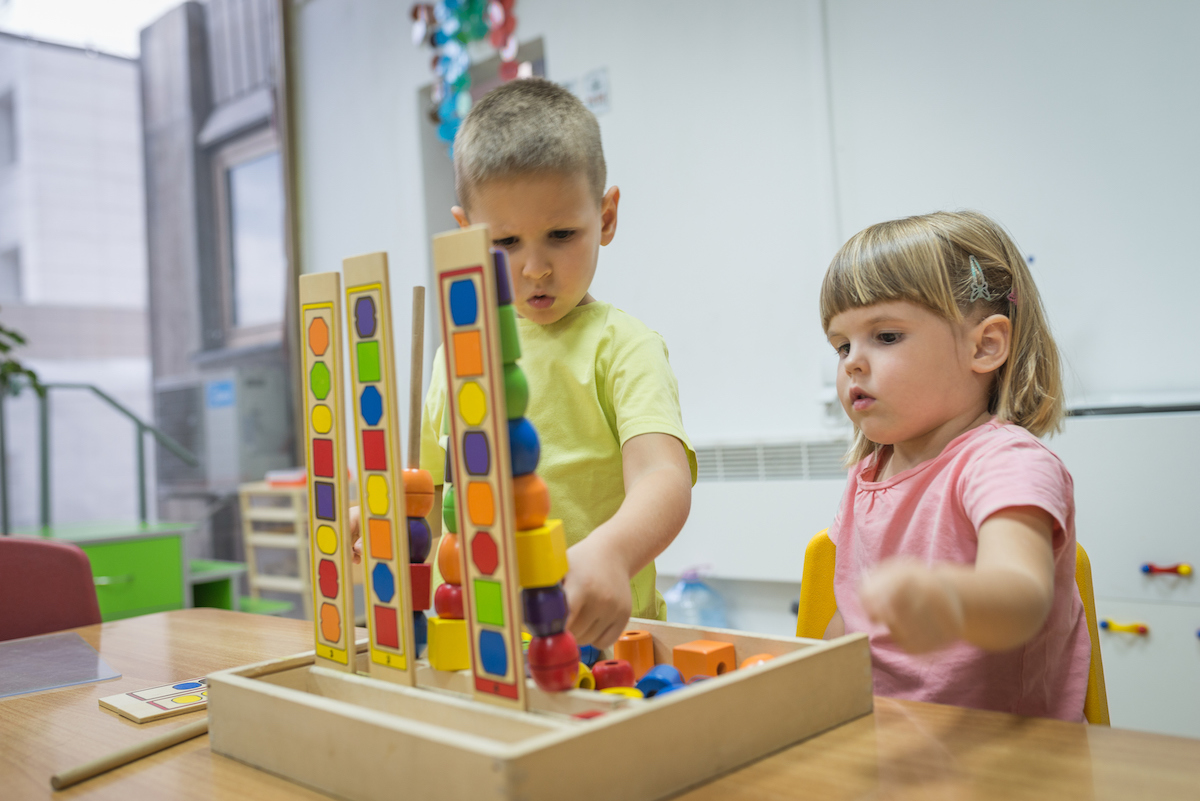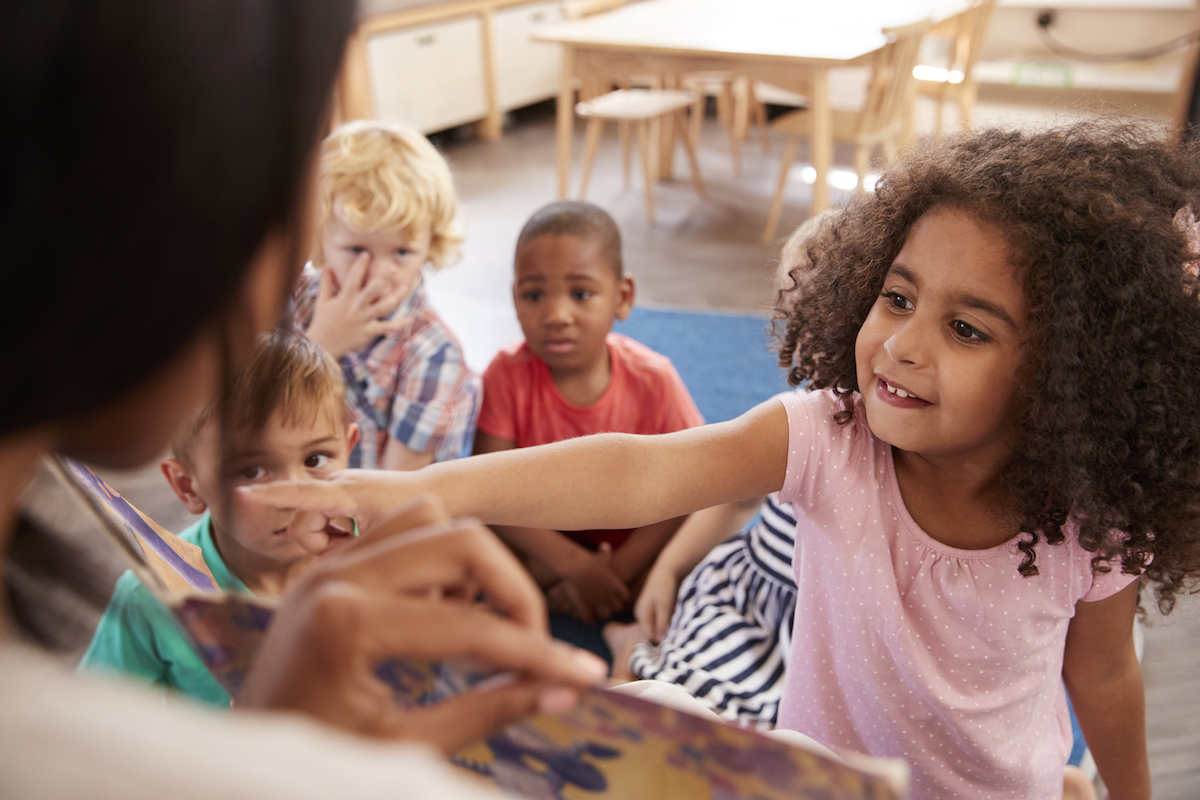 Preschool & Kindergarten
AGES: 3 TO 6 YEARS OLD within the range of 2.5-6 years old. Preschool & Kindergarten is available at both locations.
​
"Education is not something which the teacher does, but that it is a natural process which develops spontaneously in the human being"
– Maria Montessori
​
BBMS Bees Overview & Mission
The primary students are of preschool and kindergarten age, 3-6 years old, and form a community of up to 19 children per classroom working together and alongside one another.
Dr. Maria Montessori discovered that children at this age have extraordinary powers of mind. She called it "the absorbent mind." It is a once-in-a-lifetime opportunity to absorb knowledge with peak receptivity. The Bees environment takes advantage of this opportunity by creating a calming classroom rich with material for learning.
Children at this age learn by doing — they pursue their tasks independently either in a group or alone. Dr. Montessori believed that a child who is allowed to develop his or her personality freely and independently, who is encouraged to investigate and try new things would grow to be a far more responsible and creative adult than one who is heavily suppressed and disciplined. Her philosophy is not to be confused with over-permissiveness as is usually construed. There is an order in a Montessori classroom that works to the advantage of everyone. Children quickly learn that if they care for their environment and their fellow human beings, they themselves will have a richer variety of experiences. They learn that freedom is precious, but to retain it they must assume certain responsibilities.
The 3-6 year old goes through an intense period of change, including the transition to cooperative play and more complex social interactions, a language explosion leading to beginning skills in writing and reading, the emergence of number sense and the foundations of math, and great changes in physical development. BBMS teachers will respond to these changes in social and emotional, cognitive, and physical development with appropriate lessons to support each child's growth and emerging capabilities.
Your child is always learning something while at BBMS that is indirectly preparing him to learn and explore new material, making education a joyful discovery instead of a burden. This approach to educating your child fosters self-confidence, maturation and desire to try and learn new things.
BBMS Primary Specialist Role
The teacher's role is primarily to help stimulate a child's never-ending curiosity and guide/facilitate learning. The teacher will introduce lessons and then let children practice what they have learned. Montessori materials are designed to be self-correcting, which encourages independent problem solving and eliminates the correctional, disciplinary role of traditional teacher. The tasks of a Primary Program BBMS teacher are:
·To prepare a series of motivational activities linking the child with the materials;
·To direct and relate the child's energies to the material, according to the state of development;
·To demonstrate their proper use, and then to refrain from interference.
BBMS Primary Teaching Concepts
The Primary curriculum integrates several focus areas into a fully comprehensive 3 year program. The Early Childhood curriculum of a Montessori school has four basic components, which include Practical Life, Sensorial, Language, and Math. In addition to this, there are cultural extensions consisting of culture studies, geography, history, botany, zoology, arts, in addition to music and movement.
Practical life: A basic component of the Montessori curriculum is Practical Life. Children learn skills such as cleaning tables, putting objects back on a shelf where they belong, and, more importantly, how to care for themselves. They are taught how to make their own snacks when they get hungry, how to dress and clean themselves, and how to care for their environment. Many aspects of Practical Life also help with the development of eye-hand coordination. For example, children learn, through trial and error, how to pour liquid from one object into another without spilling.
Sensorial: According to Dr. Montessori, "The sensorial curriculum is designed to help the child focus his/her attention more carefully on the physical world, exploring with each of his/her senses the subtle variations in the properties of objects." In other words, children learn to pay more attention to their world through their senses. The jobs that help children to accomplish this include the pink tower, the brown stair, the red rods, the cylinder blocks, knobless cylinders, sandpaper tablets, thermic (temperature) tablets and jars, baric (weight) tablets, smelling bottles, and sound boxes, to name just a few. All these jobs start simply and move towards more complex understanding in a way that encourages the child and enhances his/her natural creativity and curiosity.
Mathematics: Mathematical abstraction is mastered by manipulating the concrete. The learning process moves from simple to complex and concrete to abstract. Materials relate to pattern recognition, sorting, sequencing, and matching. The concepts build on one another to inspire confidence.
Language: From a solid basis in spoken language Spanish and English, reading and writing are developed using a variety of tactile materials and lessons. While many children do not begin to learn the fundamentals of reading until they enter grade school, Montessori children begin to learn as soon as they show an interest – no matter what the age. The Montessori environment is saturated with opportunities for children to enhance this interest. Sandpaper letters, the movable alphabet, metal insets, verbal command cards, command cards, and exceptional children's literature all have most Montessori children reading very well by the time they enter first grade. A love of reading is a major component of the Montessori educational system, and children are not only encouraged to do so, even if they don't know the words, but are surrounded by students and teachers alike who thoroughly enjoy a good book. Inclusive in their reading education is their writing education, for it is much easier for one to learn how to read if one is also encouraged to write or draw their thoughts, ideas, and feelings at the same time.
Cultural Studies: the world's geography and peoples are explored through such materials as maps, flags, water and land forms, and books. Children may choose a continent folder with pictures of people, places, food, clothing, children, work, housing, transportation, plants and animals. Conversations explode into questions and wonderment about the world with its similarities and differences. Children share family experiences, where grandma lives, where we have traveled or what is in the news.
Integrated Art and Music: visual and expressive arts are incorporated into daily classroom activities. Artists and musicians are represented through reproductions and recordings of their works
BBMS also has further focus on the environment and outside time to explore gardening and engage in physical activity with classmates. Montessori teaching believes that physical activity is a complement to mental cognition. Foreign language is introduced at the Primary level. Full-day students receive additional curriculum support from specialists in the areas of physical education, foreign language and art, in addition to enjoying field trips.
The BBMS Kindergarten class hums with motivated, focused activity. It is in the Kindergarten year that your child will be "at the top of the class" in terms of seniority. The responsibility and pride children feel in this role gives a great sense of accomplishment. The multi-age experience offers many opportunities for five year-olds to help the younger children and to be competent role models. In addition to reinforcing their academic knowledge, this experience enhances their self-esteem and develops their self-confidence – two qualities which enable them to try new challenges as they move past BBMS to 1st grade.
Kindergarten is a time when skills that have been developing over previous years start to solidify. The Kindergarten year is a culmination. The children are unfolding as leaders, beginning readers and budding mathematicians. They are proud of their accomplishments and eagerly await the more complex lessons their teachers present. Kindergarten is particularly important: an explosion into new and challenging work takes place. The focus of the more complex Kindergarten curriculum and projects revolve around language, math, biology, botany, geography, physical sciences and history. Children mature at very different rates and their periods of readiness vary a great deal. The five year old can gain an early understanding of many difficult concepts which are the usual stumbling blocks in grade school. Long before he is faced with abstract terms (unit, fraction, etc), he explores them in simple concrete materials. For example, he can build a peninsula, put pictures on a timeline, act out verbs, "carry one" in addition, change ten units into one ten, add fractional quarters to make one-half, etc. The use of individual concrete materials accommodates many levels of ability.
BBMS Classroom Environment
The Montessori environment is a highly social one in which the children are continually interacting with and caring for each other. They are proud of their environment because they are directly involved with caring for it and contributing to it. The Montessori environment is designed to be a total environment, representing the child's world. It is hoped that each child will achieve a feeling of self-confidence, enthusiasm and responsibility about his/her world, and a sense of satisfaction about him/herself. Children learn better when they can feel and see something, literally grasping it and channeling curiosity to obtain an understanding of how it works. The concept of the Bees classroom is akin to a well oiled machine with multiple different gears working simultaneously in different ways to create an organized calm:
*Equal numbers of each age level—3's, 4's and 5's—creates an optimum dynamic for learning. Older children are examples for, and mentors to, the younger children.
*Environment is arranged according to the subject area, children are always free to move around the classroom, and continue to work on a piece of material with no time limit or pressure. The steps of learning of any concept are systematically offered to the child based on their individual development.
*Students, once introduced to the learning materials, have the freedom to circulate through the classroom setting and choose their own learning activities leading to self induced curiosity and increased confidence which lead to heightened satisfaction
*The Montessori classroom is essentially a "living room" for children where everything is their size. The surroundings are bright, warm and inviting filled with plants, animals, art, music and books.
*The children choose their activities from open shelves with self-correcting materials and work in distinct work areas – on tables or on rugs on the floor.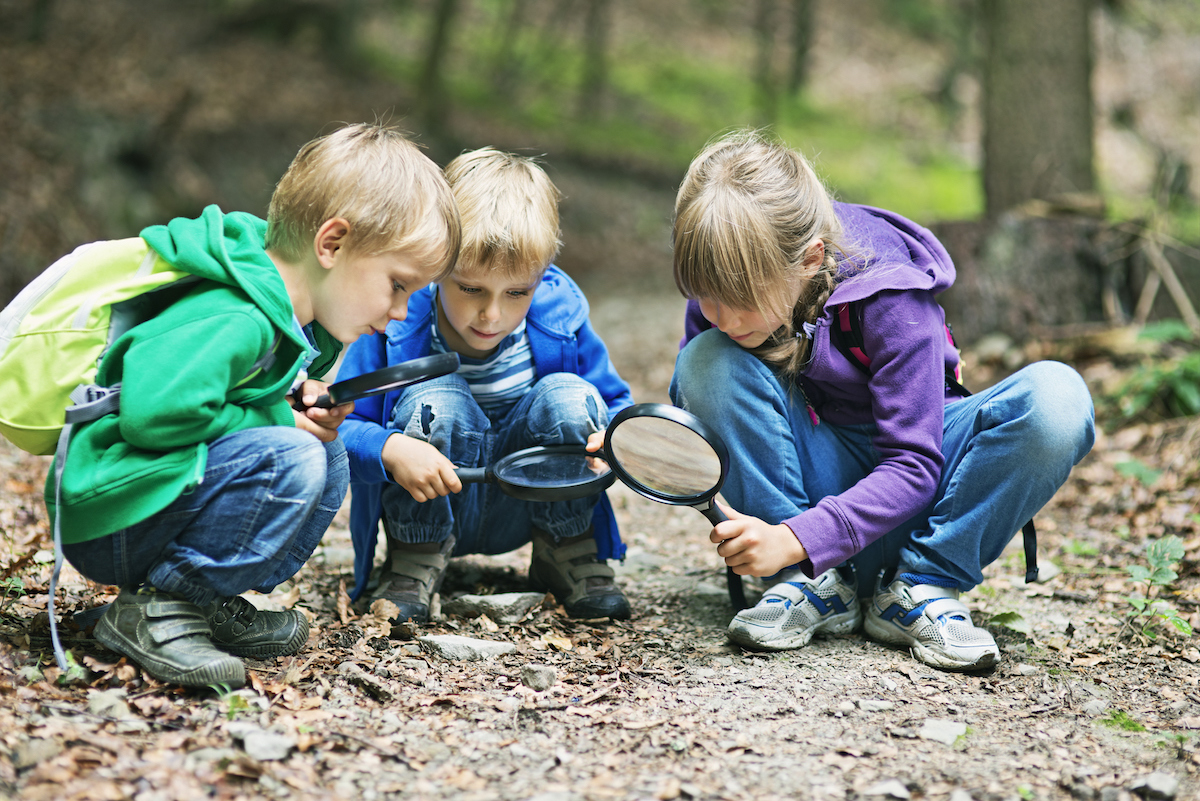 Summer Camp
Our summer program contains lots of developmental activities and exploratory experiments that engage children in a fun way of learning. Summer camp is available at both locations.